Tommy's book
A pirate theme had evolved from time spent in the Quiet Garden with a group of 4 to 5 year old Reception year children. The ship that the children built outside developed into a large boat built in the school hall, constructed from chicken wire and plaster of Paris. Tommy said "The boat is a hundred, thousand years old," the boys and Tommy in particular were fascinated with maps, treasure and old books. On one occasion in the school hall I had laid a table with a variety of Scrapstore materials, mark-making options, paper, fabrics and some old postcards from The Historic Palaces collection.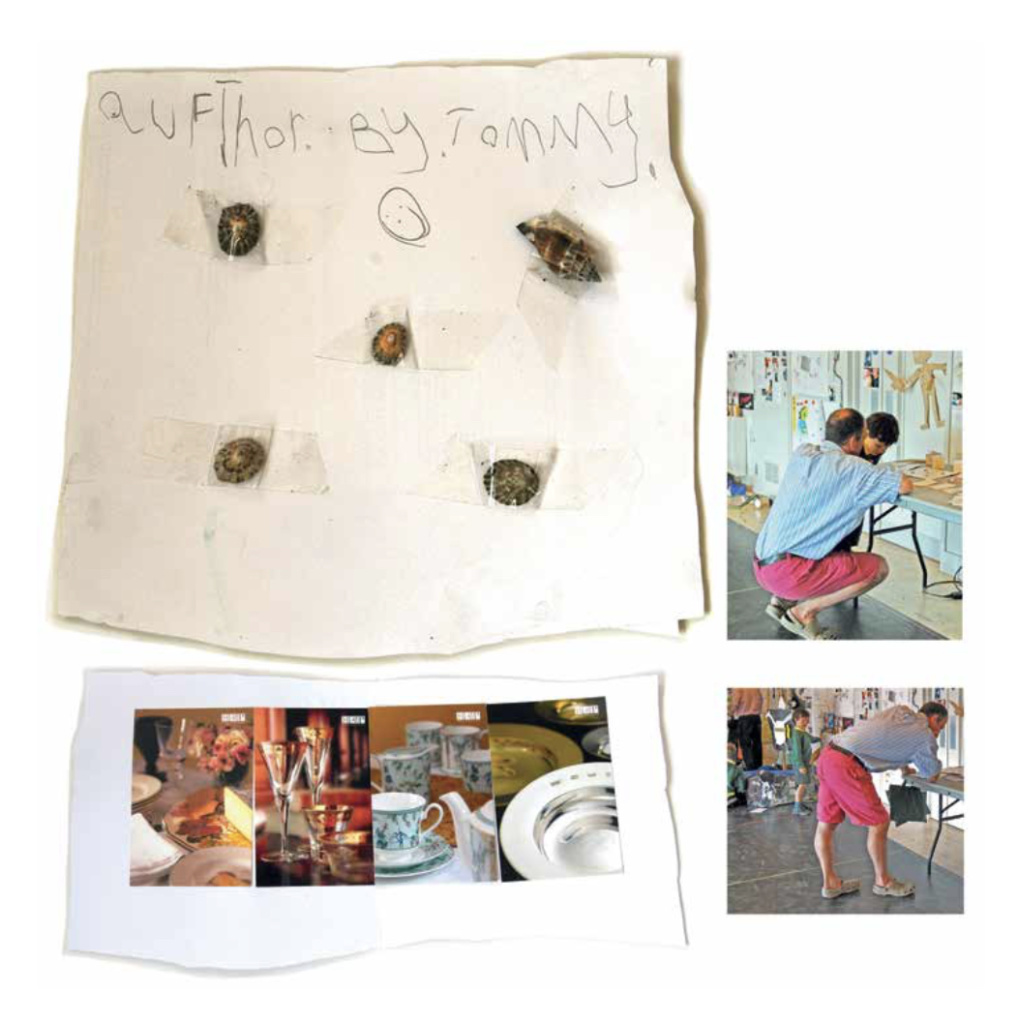 Tommy whose grandfather had recently died collected all of the postcards together and began to make another book.
"I'm fascinated in books, in funeral books, my Dad's Dad has died. The cards remind me of my Dad's Dad. I went to my Dad's Mum's house and loads of people came to my Dad's Mum's house. I can't really remember what happened then… I'm going to save some pictures for my Mum and Dad. (Sticking cards to paper) I'm saving that one, that one, not this one, because it's like a funeral (postcard of cups and saucers.) The cups and saucers remind me, because usually people eat afterwards. Jesus got crucified, I used to say my Grandma got crucified. So, I making a funeral book, this reminds me of the funeral. I'm cutting the paper, it's too big, the pictures won't fit in, I'm not going to draw it… I've got to fold it, so it's a funeral book."
Tommy searches the table for other materials, he found some shells. "They might be interesting to put on the front page." He stuck these down with sellotape. "There, I've drawn my face." He then writes 'author by Tommy'. "The book and pictures tell me about my Dad's Dad." He then went to another table and modelled a pirate ship from clay. At the end of the year all of the children's drawings, constructions and documentation were exhibited at our cultural centre, The Egg for parents and teachers to see.
Tommy's Dad was visibly moved when he saw Tommy's books and the documentation that revealed how his son was making sense of the loss he so deeply felt.